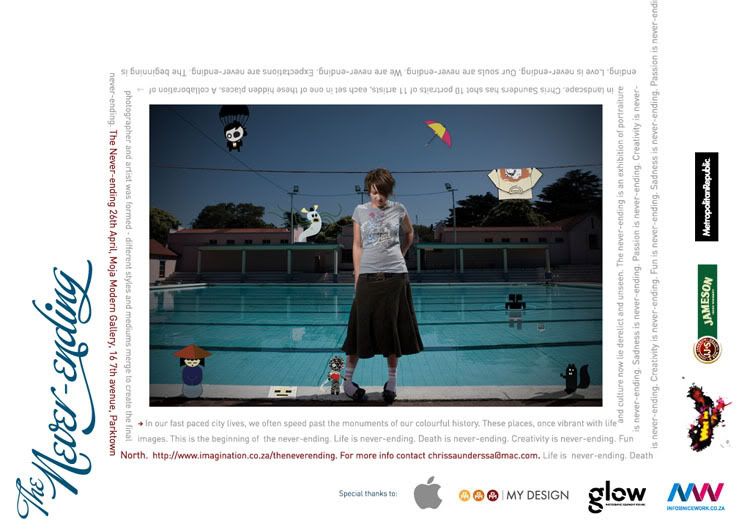 In our fast paced city lives, we often speed past the monuments of our colourful history. These places, once vibrant with life and culture now lie derelict and unseen. The never-ending is an exhibition of portraiture in landscape. Chris Saunders has shot 10 portraits of 11 artists, each set in one of these hidden places. A collabortaion of photographer and artist was formed - different styles and mediums merge to create the final images. This is the beginning of the never-ending.
The Never-ending is a never been done before, collaboration of photographer and artist. The Artists are Chinxxx, MtKidu, Johannes Dreyer, Clinton Jordaan, Anthea Moys, Rozanne Whyte, Shaun Stander, Johan de Lange, Ross Drakes & the family of Heloise Strike.
Drinks will be provided on evening (until they run out) by Jameson whiskey and a cash bar will also be run. Confectionist Bastian Eversman (Park Hyatt) is creating glorious sweets and snacks & making a magnificent cake for all to nibble at. The debut performance of Model C (Robynn & Nick Nedbit) will entertain us and Andrew the DJ will take over from them keeping us bopping till the end (22H30), putting everyone in a glorious and festive mood for the long weekend.
Seating has been provided by Mydesign for us to lounge and relax on and food for the pre-exhibition dinner has been provided by Mama Tembo's Snack Shack (Greenside).
Thank you to Apple IMC for providing us with equipment which will entertain the viewers.
The Never-Ending Begins on the 26th April at 7PM at the Moja Modern Gallery 16 7th Ave, Parktown North.
For more info please email Chris Saunders on chris@imagination.co.za or phone 011 447 9000.
Please make friend with The Never-Ending on myspace go to
http://www.myspace.com/theneverendingexhibition